MovieSlate + KeyClips (for FCPX) Pro Feature
Organize your footage for easy access in Final Cut Pro X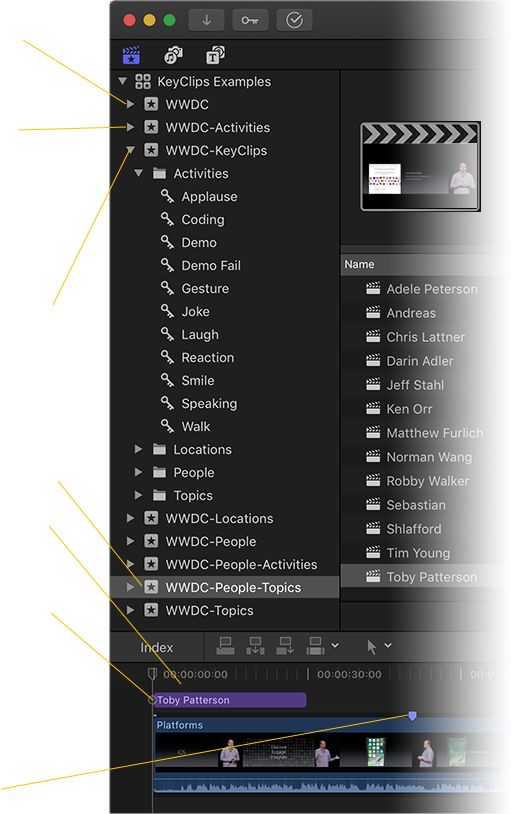 Organized Content is Easier to Use.
Get fast, searchable access to clips and metadata, without wading through hours of footage.
MovieSlate effortlessly logs as you shoot.
KeyClips (app on macOS) organizes media into Final Cut Pro X events, folders, selects, and sequences— with notes, markers, shot+production metadata, and optional bottom-third titles
(see examples at left).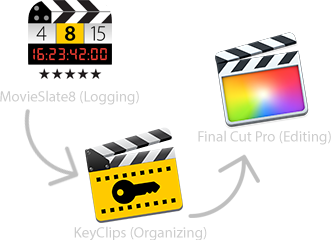 Streamlined Workflow.
MovieSlate8 logs footage— as keywords, or as shots. Learn More
KeyClips imports+matches MovieSlate log data and Final Cut Pro X clip data. Learn More
Final Cut Pro X imports XML from KeyClips— which organizes your footage . Learn More
Original Event
remains intact and untouched.
Event Folders
Activities
KeyClips (keywords)
Locations
People
People-Activities
People-Topics
Topics
The KeyClips Event
contains keyword clip-selects, organized in category folders— with optional shot+production metadata.
People-Topics Event
contains a
Sequence for each Person
, with their Topics subclips.
Bottom-Third Titles
are created for the first time a person appears within a sequence.
Markers
are created for clips and wherever a clip appears in a sequence.