Script Dept Optional Feature
Script Supervisors: here's the fast, easy way to line scripts, simultaneously log data, and generate reports.
Quick Setup.
Import a Script PDF. Set the scene count, page count, timecode, FPS, shoot day, call time, production and director names. That's it.
Rapid Data Logging.
Tap the 'Scene' button to show/hide data fields. Tap on a field to quickly edit its value with optimized keypads and customizable text snippets. Since field data is persistent, you edit data only when something changes on set. And many fields can auto-increment, such as SLATE, TAKE, DATE.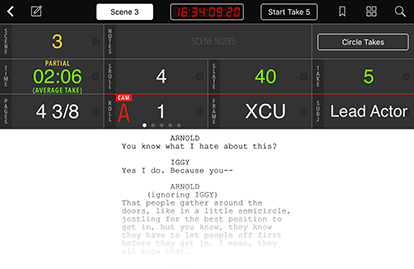 Timecode + Timings.
Tap the 'Time' button to display running timecode or a stopwatch. Take durations are calculated as you tap the 'Start Take' button on "Action!" and the 'End Take' button on "Cut!".
Script Page Management is Easy.
When new script pages arrive in your email, import the PDF into MovieSlate. Tap the 'Grid' button to show a grid of current script pages, then tap the 'Edit' button. You can choose where to insert the new pages, or have them replace one or more existing pages.
Stunning Reports: Direct and Immediate.
MovieSlate emails reports to recipient lists you can assign per-project. Reports are quickly generated using MovieSlate's own shot log history
data—
with no need to painstakingly transcribe notes or data into spreadsheets or databases.
Progress Report PDF
Facing Pages PDF
Editor's Log PDF
Marked Script PDF
MovieSlate XML, CSV, and HTML reports
Download sample reports
Mark+Log from a Single Screen.
At your fingertips are all the tools needed to create script tramlines, typed/handwritten/audio notes, photos, and drawings that stick to the script PDF. Annotations can be selected, grouped, moved, stretched, erased, copied, pasted, and edited. Fix mistakes with Undo/Redo tools.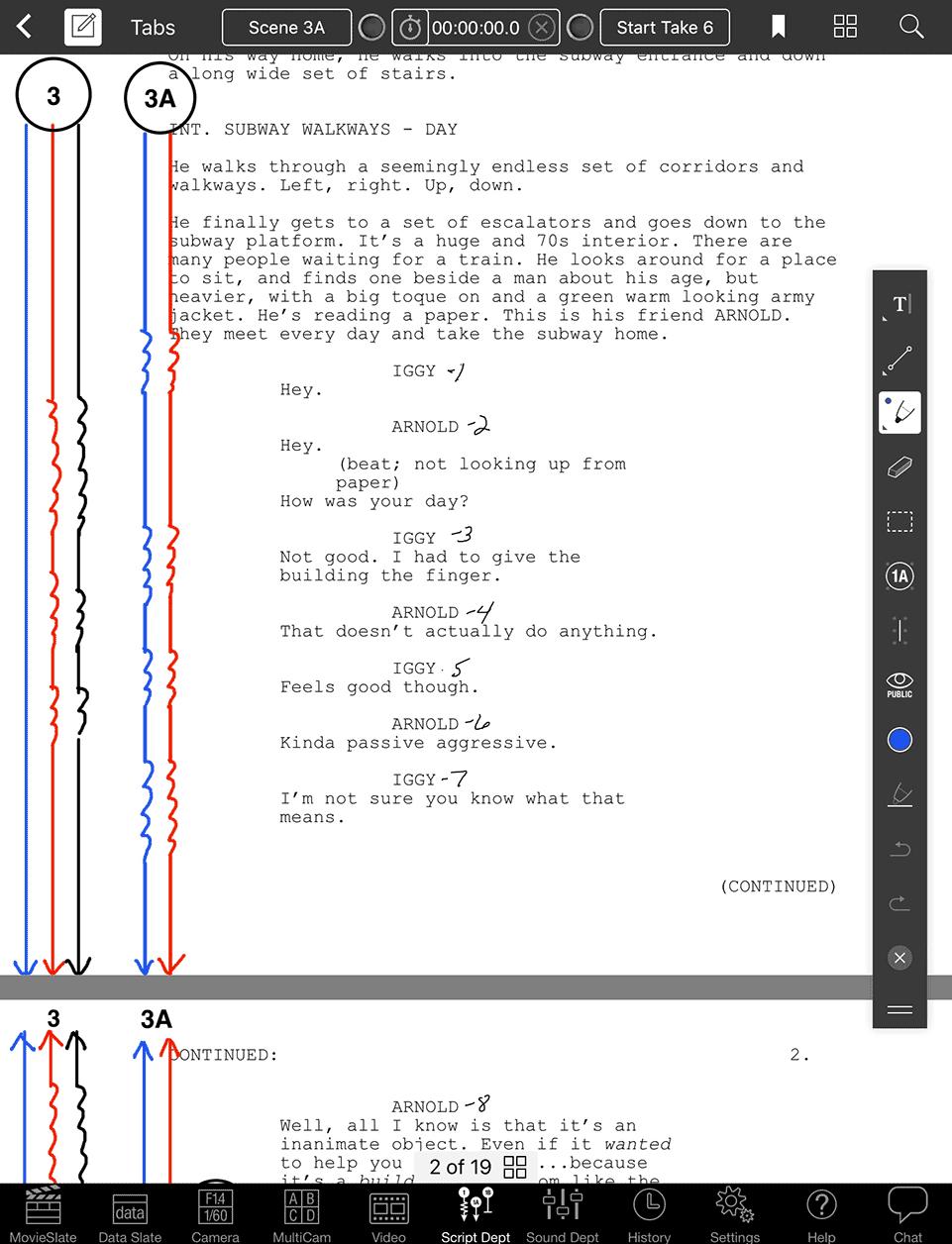 Stylus Support with Palm Rejection.
MovieSlate supports the leading brands of bluetooth styluses, and includes palm rejection logic. Some styluses have buttons that can be assigned to markup tools. A stylus can speed script markup/lining, and help to make handwritten notes more legible.
Monitor Camera Video (on iPad).
Connect to a Teradek Cube over WiFi, and monitor streamed video from its camera in a moveable panel that floats above the script page.
Learn more
Script Dept Pro Features:
All Script Dept features are provided via a monthly subscription (an in-app purchase).
Manage Script PDF pages: import, export, replace, delete
Line/Mark Script PDFs using a stylus or fingers
Schedule, log, and time Scenes— both complete and partial
Log Data for scenes, takes, cameras, sound recorders
Log scene descriptions, continuity notes, picture/sound quality/issues
Take Notes using handwriting, text, audio, photos, and drawings
Monitor video from a Teradek Cube
Sync Timecode from external sources
Sync Data from supported cameras and sound recorders
Includes all other MovieSlate Pro Features. Learn more