Script Supervisors: deftly log data while lining scripts. Save precious time with smart tools + reports.
Quick setup.
Import a Script PDF. Set the scene count, page count, timecode, FPS, shoot day, call time, production and director names. That's it. Switch between multiple projects by tapping the Production (PROD) field.
Mark+Log from a single screen.
At your fingertips are smart tools to create tramlines, typed/handwritten/audio notes, photos, and drawings that stick to the script PDF. Annotations can be selected, grouped, moved, stretched, erased, copied, pasted, and edited. Fix annotation mistakes with Undo/Redo tools.
Rapid data logging.
Tap the 'Scene' button to show/hide data fields. Tap a field to edit its value with optimized keypads and customizable text snippets. Since field data is persistent, you edit data only when something changes on set. Some fields can even auto-increment with each take. Tap the Ⓣ button to circle takes and cameras.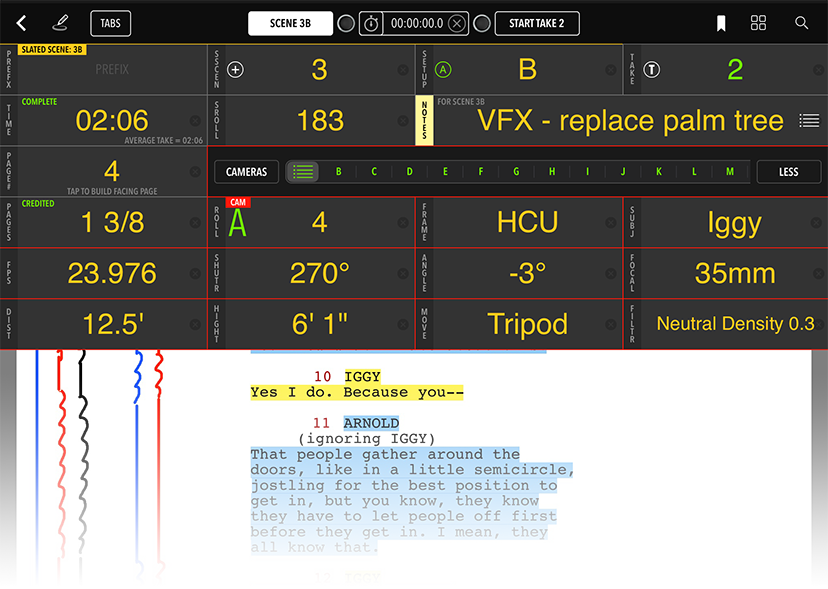 Timings + timecode.
Take durations are calculated and data is logged when you tap the 'Start Take' button on "Action!" and the 'End Take' button on "Cut!". Tap the 'Time' button to display running timecode— or a stopwatch to log "performance laps" of continuous shots that don't cut between takes.
Script page management is easy.
When new script pages arrive in your email, import that PDF into MovieSlate. Tap the 'Grid' button to show a grid of current script pages, then tap the 'Edit' button. You can choose where to insert the new pages, or have them replace some existing pages.
Save paper, save the planet.
Using Script Dept not only saves you time but also saves paper. Logging, marking, and reporting enables you to deliver your daily reports in electronic formats— even your marked script!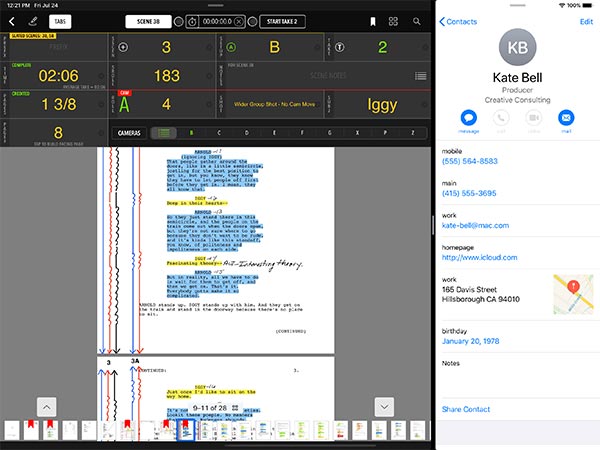 Multitasking.
MovieSlate supports iPadOS multi-tasking with Split View and Slide Over to work with another app at the same time— contacts, calculators, maps, video streams.
Learn More
Keyboard Shortcuts.
MovieSlate supports many keyboard shortcuts for users of the Apple Magic Keyboard, Smart Keyboard Folio, Smart Keyboard, or any Bluetooth keyboard paired to your iPad! Script Dept-specific shortcuts super-charge your workflow by putting your most commonly used tasks right at your fingertips.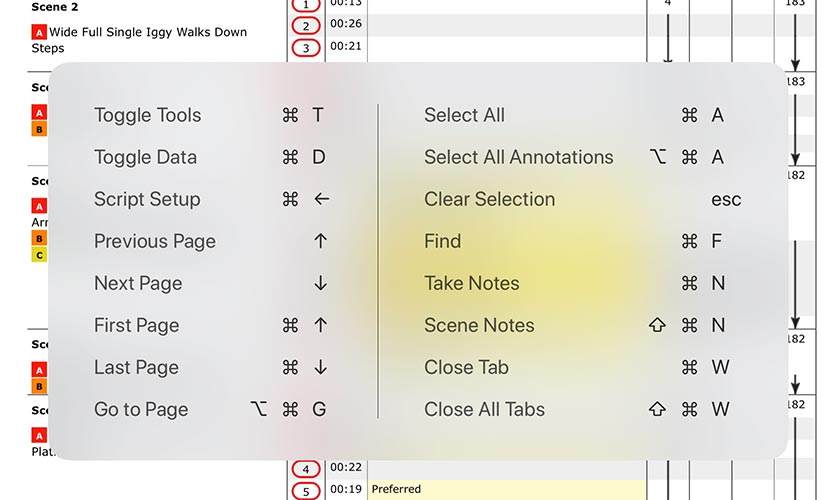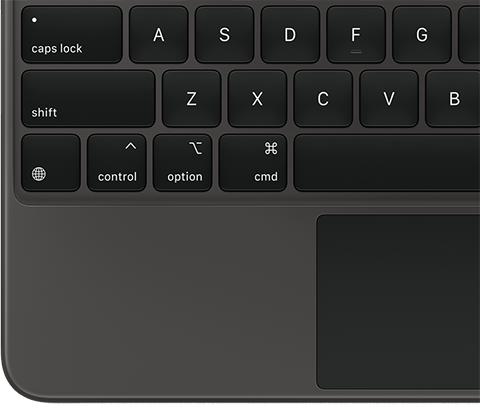 Trackpad & Mouse Support.
Yes, you read that right— MovieSlate supports the Magic Keyboard touchpad and Bluetooth mice and touchpads on supported iPadOS devices.
Stunning reports: direct and immediate.
MovieSlate builds reports using its own shot log history data— with no need to painstakingly transcribe notes or data into spreadsheets or databases. MovieSlate emails reports to your recipient lists, which can be assigned per-project.
Progress Report PDF
Facing Pages PDF
Editor's Log PDF
Marked Script PDF
Pre-production and
Progress Breakdown PDFs
MovieSlate XML, CSV, and HTML reports
Download sample reports
New to Script Dept?
Here are answers to the most common questions about MovieSlate's Script Dept workflow:
Script Dept FAQs
Script Dept Pro Features:
All Script Dept features are provided via a monthly subscription (an in-app purchase).
Manage Script PDF pages: import, export, replace, delete
Line/Mark Script PDFs using fingers or an Apple Pencil
Schedule, log, and time Scenes— both complete and partial
Log Data for scenes, takes, up to 26 cameras, sound recorders
Log scene descriptions, continuity notes, picture/sound quality/issues
Take Notes using handwriting, text, audio, photos, and drawings
Sync Timecode from external sources
Includes all other MovieSlate Pro Features. Learn more
Huge time saver.
Save hours every work week with MovieSlate's Script Dept. Easily log data while lining a script, with no need to enter/transcribe data later. When production wraps for the day, MovieSlate promptly generates script reports and emails them to your distribution list. Loaded with time-saving features, MovieSlate helps you work faster and smarter than pencil+paper or other digital solutions. After all, time is money.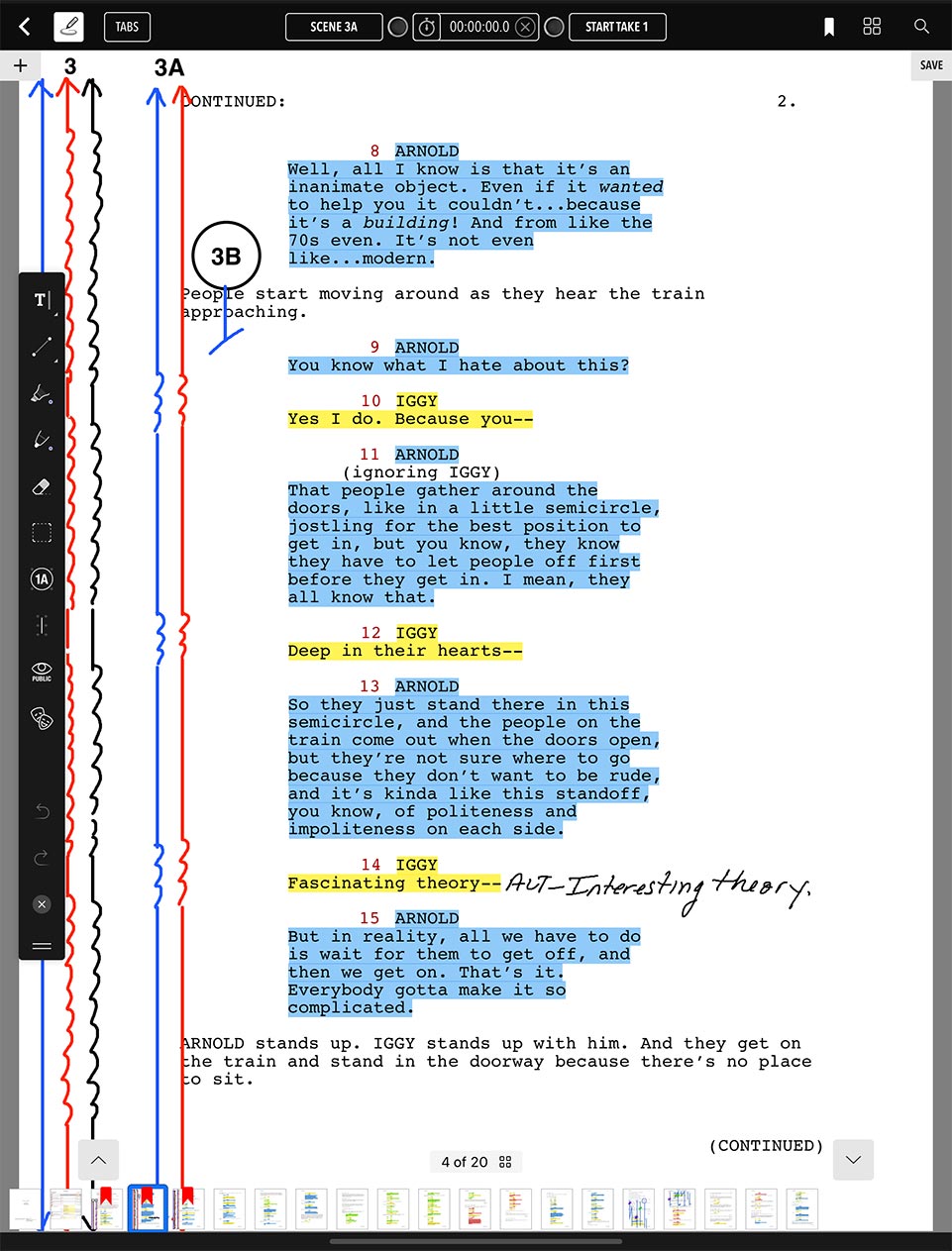 Familiar, smarter markup tools.
Draw on script PDFs with our familiar (yet digital) pen and eraser tools. With a single tap, our smart tools create tidy tramlines and legible circled headers. Copy+paste tramline text headers from page to page. Erase tramline segments and draw squiggly replacements with an Apple Pencil. Change ink color and thickness quickly. Mark handwritten or typed annotations as private, so they're auto-excluded when sharing marked scripts. Use our stopwatch to log "performance laps" of continuous shots that don't cut between takes. Easily find/navigate pages using search, bookmarks, thumbnails, and scrolling.
Apple Pencil support.
An Apple Pencil can speed script markup/lining, making handwritten notes more legible.
Monitor Camera Video (on iPad).
Connect to a Teradek Cube over WiFi, and monitor streamed video from its camera in a moveable panel that floats above the script page.
Learn more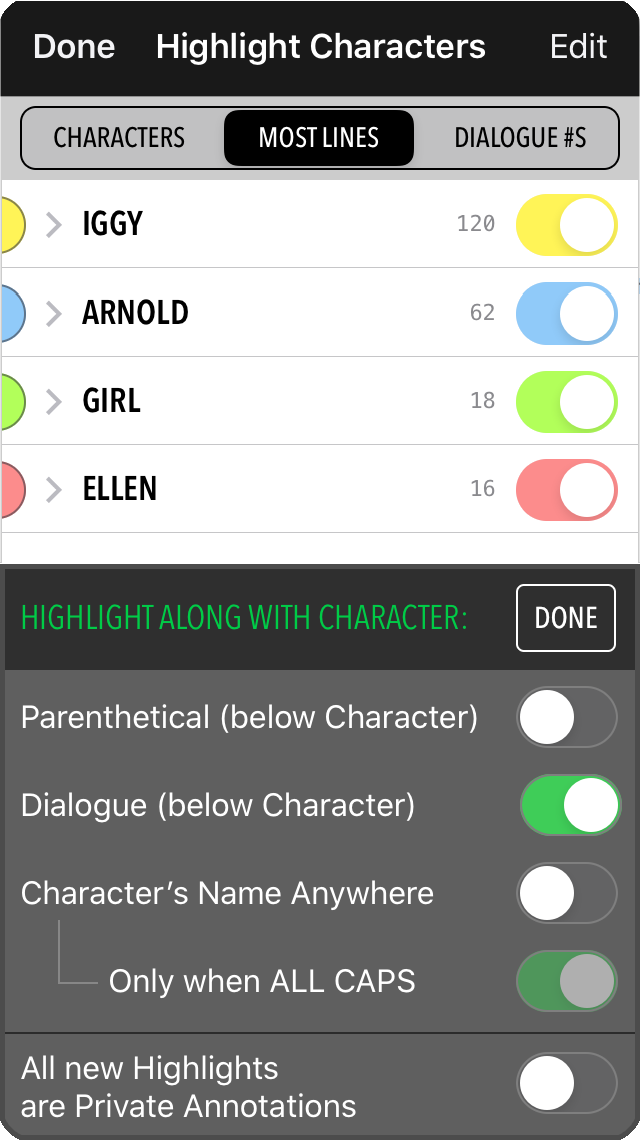 Automatic Dialogue Highlighting.
MovieSlate can scan your script and automatically highlight character names, dialogue, and parentheticals. Let MovieSlate assign highlight colors or choose your own. Toggle highlighting for each character to isolate and emphasize dialogue appearance. This non-destructive highlighting can be edited, toggled, and excluded from your lined script reports— giving you full control of the feature.
Download Sample Script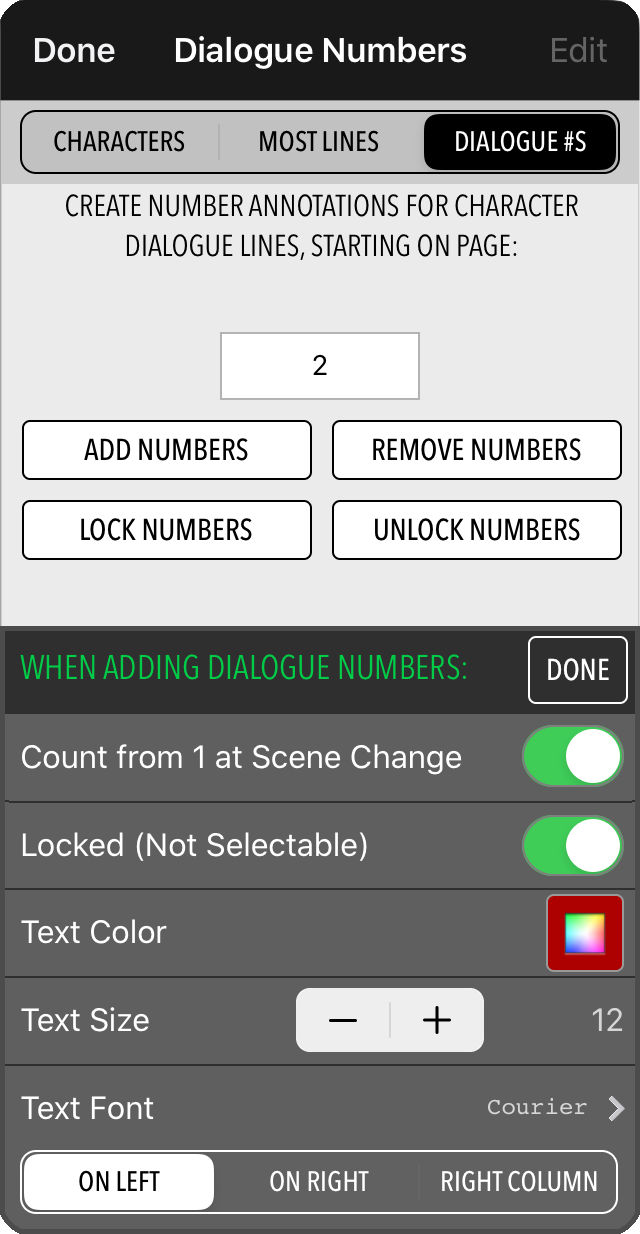 Automatic Dialogue Numbering.
Not only can MovieSlate automatically highlight character dialogue, it can also automatically number your script's dialogue blocks. Add or remove numbers. Choose your typeface, font size and color. Lock the numbers on the script page so you never accidentally select a dialogue number instead of your markup and annotations. Choose where to place the numbering: to the left of the character dialogue, to the right, or in the right margin of the page.
21st Century Breakdowns
Now MovieSlate can scan your Script PDF to identify and import Scenes, Acts, Characters, Story Days, Time of Day. You can even ask MovieSlate to estimate page counts and scene running times. Enter scene descriptions and add or remove ruler lines to visually separate scenes.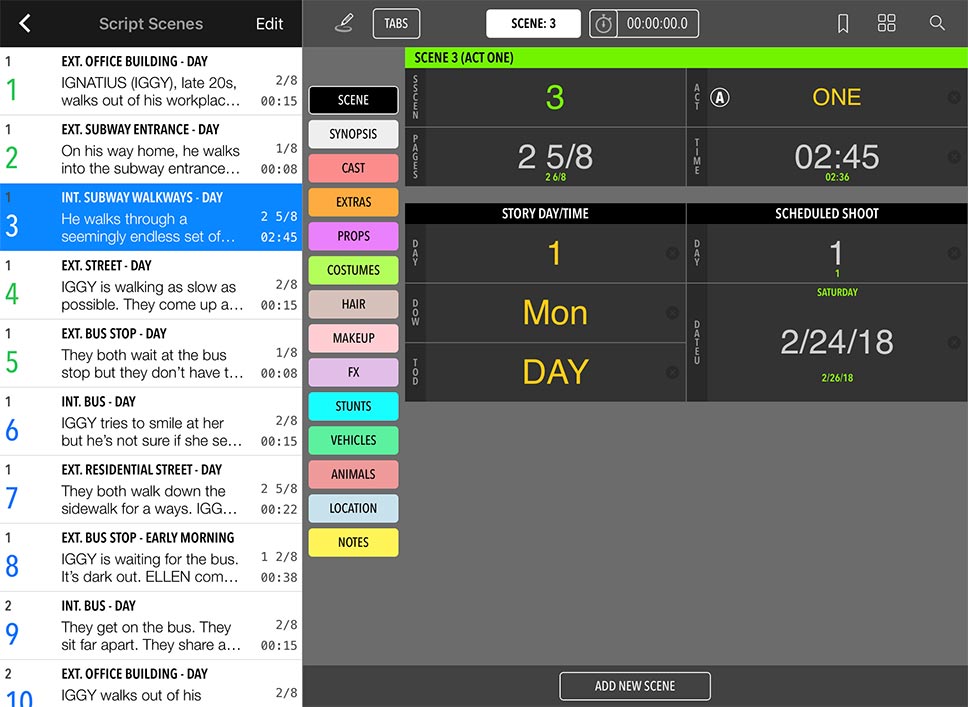 Know what's Logged and Unshot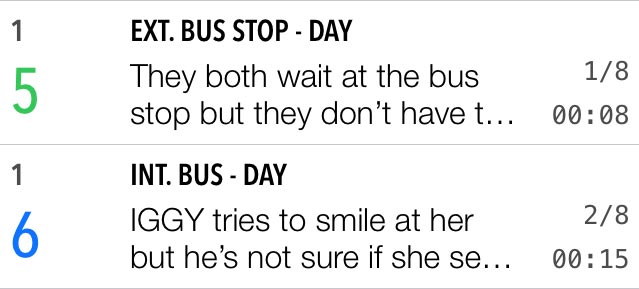 At a glance, see which scenes have been logged (in green) in MovieSlate, and which scenes have yet to be shot (in blue).
It's Elementary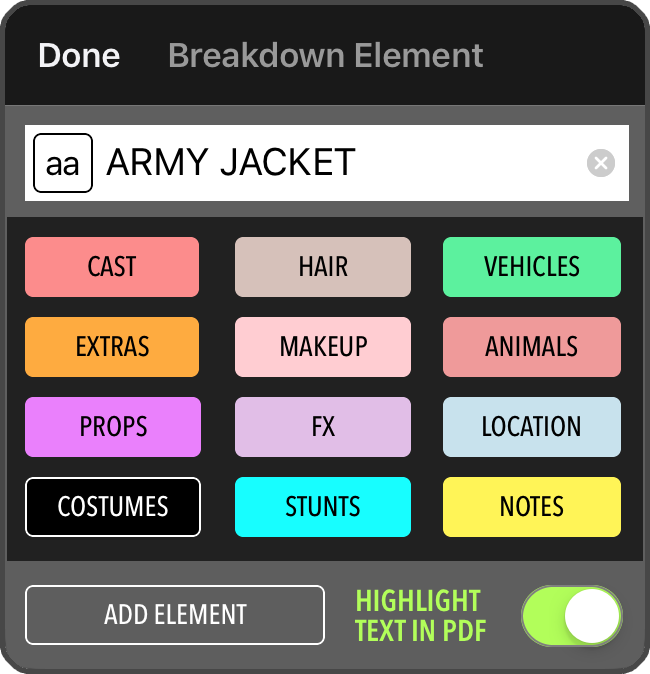 Quickly enter scene descriptions and add color-coded breakdown elements: Cast, Extras, Props, Costumes, Hair, Makeup, FX, Stunts, Vehicles, Animals, Set / Location information and Notes.
Easily highlight scene elements in the script and add them to your breakdown reports.