Denecke TS-TCB slate
A Denecke Slate with a built-in Timecode Buddy. Sync timecode, metadata, clap events with MovieSlate.
UltraSync Blue
:pulse
:wave
Timecode Buddy
Denecke TS-TCB
Denecke TS-TCB slate
Price $1600
Order Info
The Denecke TS-TCB is much like the iconic Denecke TS-3, but with a complete Timecode Buddy master built-in.
So you can rely on highly accurate timecode generation that you've come to expect from Denecke and Timecode Systems.
The slate's built-in WiFi syncs timecode, metadata, and clap events with MovieSlate.
And the slate's built-in RF transceiver syncs timecode with cameras equipped with a Timecode Buddy mini.
Denecke website
Roll Credits
MovieSlate's credit roll feature can be configured to display metadata "credits" simutaneously in the app and on the Denecke TS-TCB's bottom display:
| | | |
| --- | --- | --- |
| Sticks Open | = | when sticks are opened |
| Sticks Clap | = | when sticks close |
| Shot Ends | = | when MovieSlate ends a shot |
| Default | = | when sticks are closed and no shot is in progress |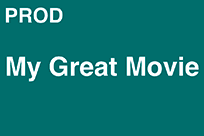 View credits animation
From MovieSlate, you can configure exactly which metadata will appear, in what order, and how long each credit should appear.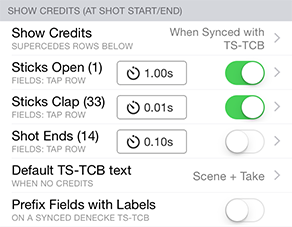 Slates in Sync
Denecke TS-TCB physical slate (above left) syncs timecode, claps, metadata with the MovieSlate iOS app (on right).