Clapperstick iPad cases:
ikan® T-Slate
Transform your iPad into a real clapper board.
ikan® T-Slate
$99 US
Order Now
Ikan's T-Slate appears to be a traditional clapperboard but look closer and you'll discover that it is the perfect companion for your iPad and MovieSlate app. Not only that but the T-Slate is an essential piece of your production arsenal.
Combine the T-Slate with your iPad and you get the smart features of the MovieSlate app along with the loud sound and motion of a traditional clapper stick. MovieSlate's built-in clap detection software can detect T-Slate's external clap stick using a combination of sound and vibration. Setup is extremely simple and you can use it with your favorite iPad cases.
Without your iPad, the T-Slate is still a fully functional marker/clapperboard that has become the timeless symbol and tool of any production.
View gallery
ikan® T-Slate™ website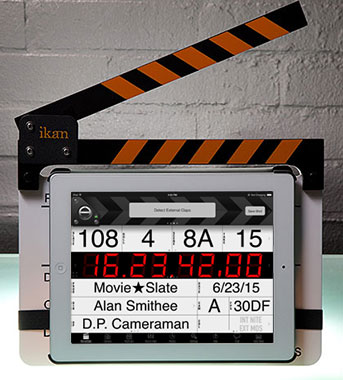 T-Slate Features
Works with iPad 1, 2, and 3
Utilizes most iPad cases including popular brands such as Incase and Targus
Integrates with MovieSlate
Loud and crisp clapping sound
White acrylic clapboard with engraved lines and titles in black
Durable wood clapper with high quality finish
Remove your iPad for an easy to use traditional marker board
Not recommended for use with Apple's magnetic Smart Covers
Recommended iPad Cases
While the T-Slate does work with most cases (except Apple's magnetic Smart Covers), here are some of our favorite cases.
iPad 3
iPad 2
iPad (1st generation)
Technical Specifications
Width: 11.6 inch / 294.6 mm
Height: 9.75 inch / 247.6 mm
Depth: 1 inch / 25.4 mm
Weight: 1 lb/ 453.6 g
Board material: White acrylic
Clapper material: Wood