Timecode Systems :wave
The perfect companion for your sound mixer—
sync timecode, metadata, and transport control.
UltraSync Blue
:pulse
:wave
Timecode Buddy
Denecke TS-TCB
Timecode Systems :wave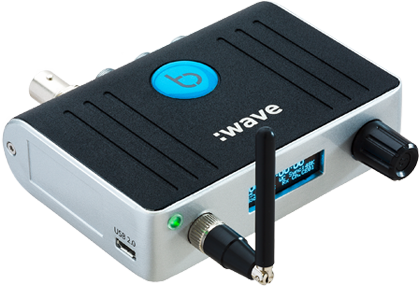 Order Info
Designed to be the perfect companion for your sound mixer, the :wave offers advanced capability to sync, log, control and report.
The :wave is designed to support the latest communication protocols with Sound Devices field audio mixer-recorders.
Using a bespoke Timecode Systems Sync lead into the :wave DATA port (TCB-40/1) and a WiFi connection to the :wave, MovieSlate® 8 (with the Pro Feature subscription) syncs data and timecode with Sound Devices' 688, 664, and 633 recorders. Start/stop shots from MovieSlate and/or a recorder.
Sync timecode and metadata. Effortlessly generate stunning sound reports.
All this is part of a MovieSlate 8 Pro Features subscription.
User-friendly features
First of all, it's small (94mm x 67mm x 23mm to be exact). It also has a high resolution blue OLED display, flexible mounting methods, USB2.0 Host or USB2.0 Device, multiple powering options; 9-36V DC on a LEMO2 and 5V micro USB. The large capacity Li-Polymer internal battery is constantly charged from any of these inputs and designed to run the unit for at least 20 hours without external power present (RF switched ON and WiFi switched off).
Zero drift between units
The LTC and GENLOCK generator is soft jammed twice a second via a long-range robust ISM band RF datalink for zero drift between units.
The new advancements to our ISM Band B:LINK network, allows the :wave to collect the status of all the 'listening' RF devices; such as :pulse, :wave and :mini trx products. This information is all displayed on a single app screen.
Timecode Systems website
Technical Specifications
| | |
| --- | --- |
| External dimensions | 94mm x 67mm x 23mm |
| Blue OLED display | 128 x 32 pixel resolution |
| Supported FPS modes | 23.976, 24, 25, 29.97, 30, 29.97DF, 30DF |
| T/C input | LEMO 5 connector |
| Frequency | 865MHz-925MHz, Worldwide ISM bands. 2.4GHz 802.11g Wi-Fi |
| Power | Backup Li Polymer rechargeable battery with 20 hours min operation, 5V micro USB connector, LEMO2 9-36V DC |
| T/C output | Three Buffered outputs on BNC, LEMO 5 and separate LEMO 9 connectors. Selectable MIC or LINE output levels |
| Output sync modes | PAL, NTSC, 720p, 720p double frame, 1080i, 1080p, 1080p double frame, Word Clock |
| Output video sync | 1V pp / 75 ohm or 1V pp /37.5ohm for 'High Level Genlock' mode (3D camera rigs) |