Timecode Systems Products
Engineered with Bluetooth® technology
to create a truly wireless sync solution.
UltraSync Blue
:pulse
:wave
Timecode Buddy
Denecke TS-TCB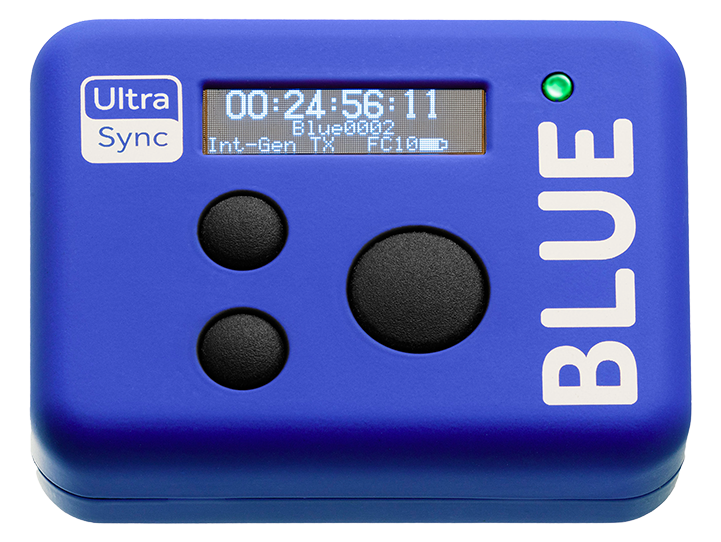 Timecode Systems
UltraSync BLUE
Order Info
UltraSync BLUE is simple, low-cost, and has the potential to synchronise any camera or sound recording device with Bluetooth® connectivity. There are no cables and no mounting issues, giving you more freedom to shoot from creative angles with smaller, more mobile cameras.
Unleash your creativity.
UltraSync BLUE
is Timecode Systems' first product to synchronise over Bluetooth®. Once connected, timecode is transmitted wirelessly from the
UltraSync BLUE
directly to connected devices. By removing the restrictions of a wired connection, crews not only benefit from extra convenience, but also get even more versatility to choose how they sync. Use a single
UltraSync BLUE
unit to sync up to four recording devices shooting in close range over Bluetooth®. Or alternatively, connect the
UltraSync BLUE
to a Timecode Systems RF network and sync to other camera and audio recorders using Timecode Systems units on the same channel.
Timecode Systems website
Features
A patented, timing protocol delivers unparalleled accuracy for the exchange of timecode over Bluetooth®.
After first set-up,

UltraSync BLUE

automatically recognises your device.
Use one

UltraSync BLUE

to feed frame-accurate timecode to up to four devices filming in close range (up to 10m) over Bluetooth®.
Or, use long-range RF to sync multiple

UltraSync BLUE

s, or to sync to other Timecode Systems products.
Timecode is embedded into the media file and automatically recognised by professional NLEs.
Technical Specifications
| | |
| --- | --- |
| External dimensions | 55mm x 44mm x 17mm |
| Weight | 36g |
| Supported FPS modes | 23.976, 24, 25, 29.97, 30, 29.97DF, 30DF |
| Bluetooth® Range | approximately 10m |
| RF Range | approximately 200m |
| Frequency | 865.050 MHz - 923.200 MHz |
| Internal power | 20+ hours battery life |
| USB-C | For firmware updates and external power |
| Display | 128 x 32 pixels OLED display |
| BLINK | Communication between units over BLINK RF |