Timecode Systems Products
A multi-functional timecode and metadata hub
with device control for multi-camera set ups
UltraSync Blue
:pulse
:wave
Timecode Buddy
Denecke TS-TCB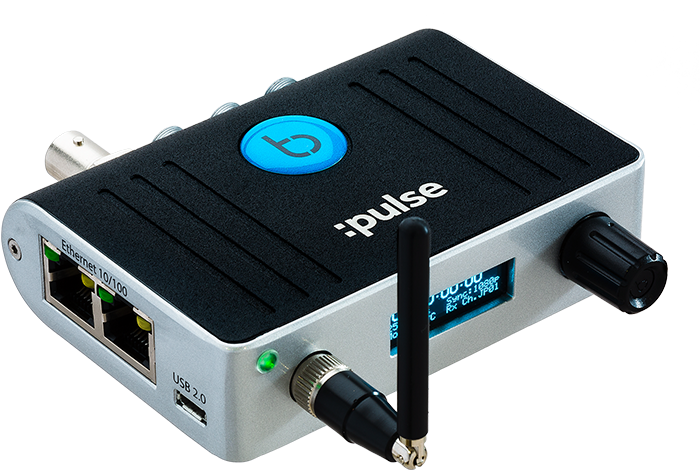 Timecode Systems :pulse
More Info
As the heart of your workflow, the :pulse operates as a multi-functional timecode and metadata hub and device control centre for multi-camera set ups.
3D-friendly
The :pulse has a built in Ethernet/WiFi bridge plus a two port Ethernet switch. So you can attach two cameras to one :pulse for 3D rigs.
Ethernet accessories
The :pulse can also use the second Ethernet port to connect a camera accessory in addition to the camera inself; such as lens motor controller or proxy recorder. Acting as another Wifi to Ethernet bridge.
User-friendly features
First of all, it's small (94mm x 67mm x 23mm to be exact). It also has a high resolution blue OLED display, flexible mounting methods, USB2.0 Host or USB2.0 Device. Multiple powering options; 9-36V DC LEMO2, 5V USB and PoE on the RJ45 connector. The  large capacity Li-Polymer internal battery is constantly charged from any of these inputs and designed to run the unit for at least 5 hours without external power present.
Timecode Systems website
Technical Specifications
| | |
| --- | --- |
| External dimensions | 94mm x 67mm x 23mm |
| Blue OLED display | 128 x 32 pixel resolution |
| Supported FPS modes | 23.976, 24, 25, 29.97, 30, 29.97DF, 30DF |
| T/C input | LEMO5 connector |
| Frequency | 865MHz-925MHz, Worldwide ISM bands |
| Internal power | Backup Li Polymer rechargeable battery with 5 hours min operation, 3 hours charge from 9-36volt LEMO2 connector, 5V micro USB connector or PoE via RJ45 |
| T/C output | Dual buffered output on LEMO5 and separate LEMO6 connectors. Selectable MIC or LINE output levels |
| Output sync modes | PAL, NTSC, 720p, 720p double frame, 1080i, 1080p, 1080p double frame |
| Output video sync | 1V pp / 75 ohm or 1V pp /37.5ohm for 'High Level Genlock' mode (3D camera rigs) |
Multi-functional
The :pulse can also be used to sync metadata and control Sound Devices 6-series mixer/recorders with just like the Timecode Sytems :wave hub.
Learn More